Elvoron Home Elevator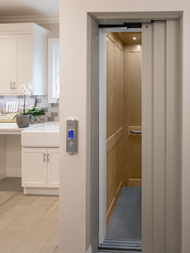 The Elvoron Home Elevator by Garaventa Lift is an elevating system designed specifically for use in private residences. There is a choice of two drive systems available; hydraulic or in-line (machine room-less) .
Compact Drive Cabinet
Submersed Hydraulic Pump Motor
Aircraft-Quality Steel Suspension Cables
A small area outside the elevator hoist-way is required to accommodate the controller and the hydraulic pump unit. This area can be adjacent to the elevator hoist-way or in a remote location.
Another advantage to the hydraulic drive system is that manual lowering operations are very easy for those with limited strength or mobility. There is a manual lowering valve on the pump unit which allows the hydraulic fluid to drain from the cylinder, controlling the lowering of the cab in instances of power outages.
No Machine Room
In-Line Drive Electric Motor
No Hydraulic Fluid
No machine room is required, making this a popular choice where space is a prime consideration. All of the drive components, including the controller box, can be mounted within the hoist-way. However, it is recommended that the controller, which can be located up to 50 feet away, be located outside of the hoist-way for easier service access.
Manual lowering is accomplished either by use of the standard manual lowering hand wheel, or by use of the optional battery powered lowering.
Required clearances:
recommended pit depth for this home elevator is 8" (200mm), although shallower pit depths are usually feasible.
overhead clearance of 96" (2438mm) is required for our standard cab height of 84" (2134mm). For taller custom cab heights or in-line drive configurations which call for the controller to be located above the rails, the required overhead clearance is adjusted accordingly.
It is strongly recommended that all home elevators be equipped with built-in telephones. The elevator quickly becomes a part of everyday life and there is always a chance of entrapment due to power outage or equipment malfunction. It makes sense to ensure there is always a method of communication. Elvoron Home Elevators are available with either a hands-free telephone integrated into the car operating panel, or a separate cabinet with a jack for a standard hand-held telephone.