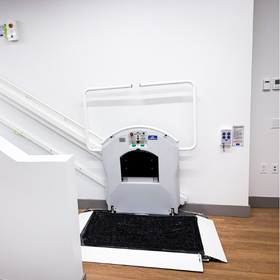 A stunning Xpress II was installed by the Garaventa Lift branch in British Columbia at a public facility for youth support in the Downtown Vancouver region. The essential project was implemented after a nearly two-year delay from the first quotation.
The Garaventa Lift branch in Maple Ridge, BC had to execute a complete new build on this project, which was completed alongside the facility's construction work. The elevator was installed in the new Silver Moon colour and with a side load for easy access. When not in use, the platform lift moves on two rails that are connected directly to the wall and may be folded. It was the best way to get access to an upper office area.
About the Xpress II: 
The Xpress II is an inclined platform lift designed to provide economical access between two landings. The platform travels on two rails which are secured directly to the wall and can be folded when it is not being used.
Highlights
Low cost

ADA & TSBC compliant

Space Saver
Did you install an outstanding lift recently? Do you think one of your projects deserves to be Project of the Month? Send us pictures and a short story of your latest project at marketing@garaventalift.com
Contact us for more information