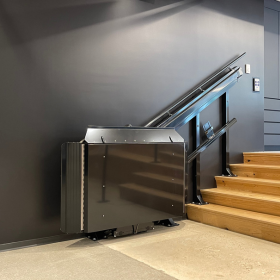 Product: X3 – Inclined Platform Lift
Installed by: Bedco Mobility
Location: An office building in Arlington, Virginia
Installation year: 2023
We are thrilled to shine a spotlight on our remarkable partners, Bedco Mobility, as they emerge victorious with the Project of the Month award for July! Their outstanding achievement comes in the form of a bespoke-colored X3 – Inclined Platform Lift, a true testament to innovation and accessibility. This stellar installation took place in an office building nestled in the vibrant city of Arlington, Virginia, adding a touch of modern style to an elevated lounge within a common space.
The challenge at hand was as intriguing as it was vital. The architects envisioned a seamless blend of form and function – an elevator that didn't just meet accessibility requirements but also resonated with modern aesthetics. Bedco Mobility seized the opportunity to turn this vision into reality with a custom-colored X3 – Inclined Platform Lift. The result? An architectural marvel that effortlessly merges access and design, creating a pathway for everyone to enjoy the elevated lounge.
What sets this project apart is the attention to detail, particularly the custom color unit with a pedestrian handrail. Bedco Mobility's dedication to meeting the unique demands of the project led to the creation of an inclined platform lift that doesn't just provide access, but does so with a touch of individuality. The choice of a custom color not only complements the overall design of the space but also enhances its visual appeal. It's a brilliant example of how accessibility solutions can seamlessly integrate into modern environments, enhancing inclusivity without compromising on aesthetics
The successful completion of this project exemplifies the synergy between innovation, collaboration, and expertise. Bedco Mobility's commitment to delivering beyond expectations is evident in every aspect of this installation. From conceptualizing the idea of a modern-style inclined platform lift to realizing it with precision, their team has truly outdone themselves.
As we applaud Bedco Mobility for this well-deserved recognition, we also celebrate the collective effort it represents. Projects like these remind us that accessibility isn't just about ramps and elevators – it's about envisioning a world where everyone can navigate spaces seamlessly, regardless of their mobility. Congratulations once again to Bedco Mobility for their exceptional achievement, and here's to more groundbreaking projects that redefine accessibility in inspiring ways!
About the X3 – Inclined Platform Lift: 
The X3 is a simple and robust inclined platform lift from Garaventa Lift. The wheelchair lift is suitable for residential or commercial applications.
Highlights
Minimal space requirement
Narrow Profile when Folded
Fast/Quick Installation
Did you install an outstanding lift recently? Do you think one of your projects deserves to be Project of the Month?  Send us pictures and a short story of your latest project using the link below.
Contact us for more information