X3 - Inclined Platform Lift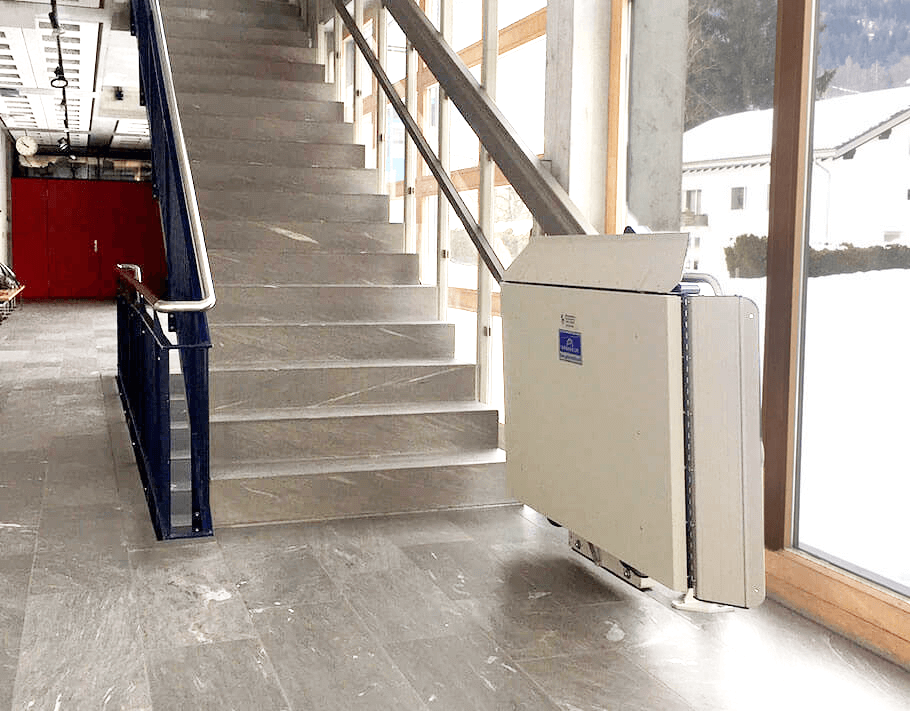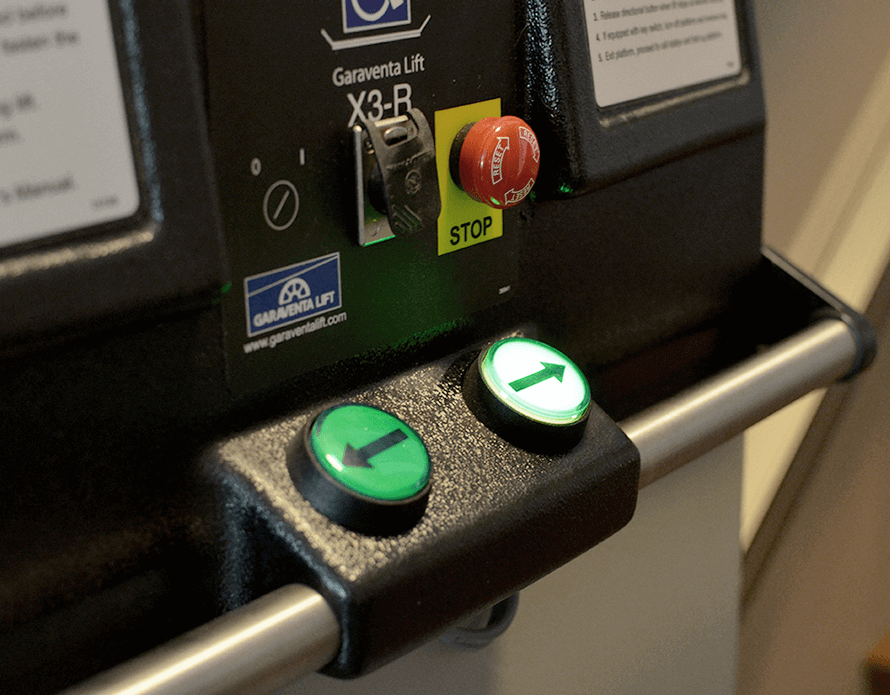 X3 - Wheelchair lift for residential or commercial applications
The X3 is a simple and robust inclined platform lift from Garaventa Lift. Featuring a 550 lb. load capacity, battery operation and wireless call stations, the X3 is fast and easy to install. The X3 provides excellent value: Garaventa Lift reliability and safety combined with innovative technology.
For commercial applications, the X3 will feature larger batteries with more capacity, large ADA-compliant platform, and powered fold and unfold functions.
---
Highlights:
Low cost
Reliable
Fast/Quick Installation
Wireless Call Stations
Minimal space requirement
Concealed Drive
Narrow Profile when Folded
---
More information can be found in the Downloads
Downloads
---
The most obvious benefit is accessibility. Transform inaccessible space into usable area for people with disabilities and those who have difficulty using stairs.
Ease of Use: The platform controls are large and easy to use. The buttons are 2" in diameter, illuminated and protrude from the surrounding surfaces. This makes the X3 easy to use for people with limited dexterity in their hands. The buttons are also positioned on an angle towards the user.

The X3 is available with fully an automatic folding platform, which includes powered boarding ramps and barrier arms.

In many residential applications, wall mounted call station controls are not required. However, when they are required, the call stations for the X3 are wireless. This allows for the controls to be installed on the wall without the need to run conduit from the lift to the controls. The installation is cleaner, simpler and faster.

Cost-effective: The cost of the Garaventa X3 inclined platform lift is significantly lower than many other accessibility alternatives.

Convenience: When stairs in a home or office become a challenge for people, sometimes they must be hand carried or lifted in their wheelchair step by step. Not only does this contravene public accessibility requirements, This can be extremely dangerous for everyone involved. The installation of an X3 alleviates the difficulties of moving up and down the stairs and provides a safe, code-compliant and efficient method of travel to another level.

Compact and Space Savings: When folded, the X3 takes up a minimal amount of space and will not effect other users of the stairway.

Safety: The X3 is equipped with standard safety features including curved safety arms, multiple safety sensors, and an emergency stop switch.

Short Delivery & Installation Time: Standardized components allow Garaventa Lift to provide you with a lift configured to suit your stairway with a short delivery time. Installation is usually accomplished within a single day and does not typically require any modifications to existing structures.

Experience: Garaventa Lift has been providing accessibility solutions for commercial and residential projects for over 35 years, having installed over 50,000 lifts worldwide.

Service: Maintenance of any kind of equipment is crucial to ensure continued service. Your local authorized Garaventa Lift representative has the training, expertise and the spare parts to keep your X3 operating properly for years.
---
A choice of three platform sizes.
Capacity of 250kg / 550lbs.
Curved safety arms that fold down when stored, reducing overhead clearance requirements.
Large, easy to use platform control buttons angled towards the passenger.
Rack & pinion drive system with re-chargeable battery operation.
Safety sensors - under the platform and on the leading ramp.
Manual fold and unfold.
Passenger grab bar.
Platform emergency stop button.
---
Fully automatic platform with powered ramps and arms.
Side load ramp, allowing for easier boarding in small lower landing spaces.
Attendant remote control, allowing the lift to be operated by someone other than the passenger.
Folding seat for passengers who are not in a wheelchair, but have difficulty using stairs.
Support towers for stairways without an adjacent wall to attach to Wireless call station wall controls allow for fast and clean installation.
Specifications
---
| | |
| --- | --- |
| Platform | A variety of platform sizes available |
| Power Requirements | 120 VAC provides power to battery charger |
| Applications | Residential or Commercial. Commerical applications require conformance to the ADA Accessibility Guidelines and/or ASME A117.1 (check local requirements). |
| Rated Load | 250 kg (550 lbs) |
| Drive System | Rack & Pinion |
| Speed | 4 m/min (13 ft/min) |
| Platform Controls | Keyless with continuous pressure directional buttons, equipped with emergency stop switch |
| Overspeed Safety | On board the platform carriage |
| Safety | Emergency manual lowering and folding | Under platform obstruction detection | Bi-directional ramp sensing | Curved safety arms | Pedestrian safety lights. |
| Finishes | Champagne anodized extruded aluminum rails, Optional RAL colors (See your local Garaventa Lift dealer for details) |
| Optional Features | Wireless call stations, keyless (standard) or keyed with continuous pressure switches | Fully powered platform fold and unfold with powered ramps and arms | Attendant remote control | Fold-down seat with seat belt | Support towers | Keyed platform controls | Vandal resistant platform storage | Keyed platform lock |
Downloads
---