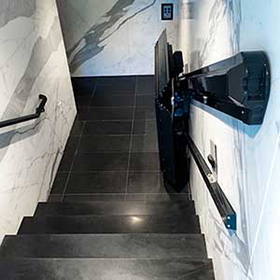 Product: X3
Installed by: Bedco Mobility Inc.
Location: Watergate Hotel in Washington D.C., USA
Installation year: 2016
The X3 is an ideal accessibility solution for straight stairways. Back in 2016, our long-term dealer Bedco Mobility, installed this wheelchair lift at the Watergate Hotel in Washington D.C., USA.
The luxury hotel was looking for a simple and reliable solution that blends in with the interior. The X3 was the perfect pick: the lift's custom colour blends in with the elegant walls and stairways, only requires minimal space and was fast to install.
Thank you Bedco Mobility for this great project and for carrying forward the Garaventa Lift brand!
About the X3: 
The X3 is a simple and robust inclined platform lift from Garaventa Lift. The wheelchair lift is suitable for residential or commercial applications.
Highlights
Minimal space requirement

Narrow Profile when Folded

Fast/Quick Installation
Did you install an outstanding lift recently? Do you think one of your projects deserves to be Project of the Month? Send us pictures and a short story of your latest project at marketing@garaventalift.com
Contact us for more information