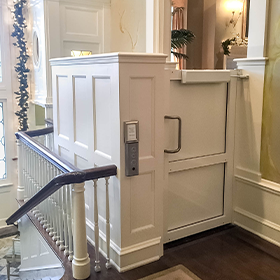 In 2018, the Mobility Concepts team removed an old lift by others at the Sunset Club in Seattle and replaced it with a Garaventa Genesis Shaftway. The previous lift accessed two stops. With this new solution, people are able to easily access three levels. The white colour matches the elegant interior of the heritage house.
The Sunset Club was founded in 1913 by women from some of Seattle's most prominent families and has a deep connection to Seattle's history, traditions and culture. Learn more about the Club.
Thank you Mobility Concepts for this fantastic installation and for carrying forward the Garaventa Lift brand!
About the Genesis Shaftway:
The Genesis Shaftway Model fits inside a vertical runway (also known as a hoistway or shaftway) that is built by others in accordance to Garaventa Lift specifications.
Highlights
Low cost
ADA compliant
Blends in with any decor
Tactile and illuminated controls
Did you install an outstanding lift recently? Do you think one of your projects deserves to be Project of the Month? Send us pictures and a short story of your latest project at marketing@garaventalift.com
Contact us for more information