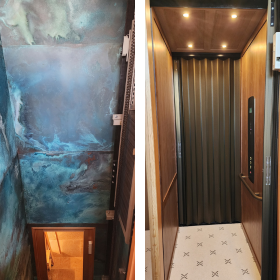 Garaventa Lift Maple Ridge Branch has successfully completed an exceptional elevator project in the scenic location of Whistler, BC. This installation is a testament to their expertise and commitment to delivering top-quality elevators. The project features a three-stop MRL elevator with a meticulously crafted custom-finished cab, exuding elegance and sophistication.
The cab showcases exquisite details such as oil-rubbed bronze accents, a tastefully designed handrail, and aluminum perforated gates, adding a touch of contemporary style to the interior. The hoistway walls are adorned with acid-wash copper paneling, creating a warm and inviting ambiance. Glass landing doors provide passengers with a captivating view of the elevator's journey through the beautifully constructed hoistway.
Lead mechanic Adam Fraser and apprentice Matthew Hearn demonstrated their exceptional skills and attention to detail throughout the installation process. Despite the challenge of working in a fully finished hoistway, they ensured seamless integration of the elevator, preserving both its functionality and aesthetic appeal. Garaventa Lift's Whistler project showcases their unwavering dedication to delivering outstanding elevator solutions that blend seamlessly with their surroundings, offering a remarkable experience for passengers.
About the Elvoron Home Elevator: 
Elvoron Home Elevators are designed for residential homes, add value to your home, and are comfortable, quiet and reliable. They can be customizable with various colours, finishes, and materials to suit any style, budget or project.
Highlights
Reduce heavy lifting when transporting storage, laundry or groceries
Meet or exceed all local and national safety code requirements.
Customizable with a variety of colours, finishes, materials and fixtures
Different door and cabin wall options
Did you install an outstanding lift recently? Do you think one of your projects deserves to be Project of the Month? Send us pictures and a short story of your latest project at marketing@garaventalift.com
Contact us for more information