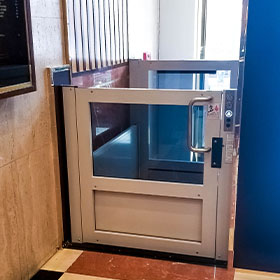 Product: Genesis Shaftway
Installed by: Garaventa Lift branch in New England, USA
Location: Waban, Massachusetts, USA
Installation year: 2021
Garaventa Lift products are custom-made to respond at best to personal requirements and structural conditions. Our branch in New England recently installed a Genesis Shaftway within an existing Marble structure and brass finish. This is a nice example of how the Shaftway Model can be designed to blend and complement the interior.
A big thank you to Kevin Swansen and the team for this great installation!
About the Genesis Shaftway
The Genesis Shaftway Model fits inside a vertical runway (also known as a hoistway or shaftway) that is built by others in accordance to Garaventa Lift specifications.
Highlights
Low cost
ADA compliant
Blends in with any decor
Tactile and illuminated controls
Did you install an outstanding lift recently? Do you think one of your projects deserves to be Project of the Month? Send us pictures and a short story of your latest project at marketing@garaventalift.com
Contact us for more information