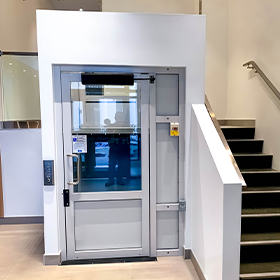 Product: Partial Genesis Shaftway

Installed by: Garaventa Lift Branch in British Columbia, Canada
Location: Vancouver, BC, Canada
Installation year: 2021
Congratulations to the Garaventa Lift branch in British Columbia for winning September project of the month! They installed a beautiful partial Shaftway in the common area of a residential building in Vancouver, Canada. The infill
panels beside the doors make this installation a "partial shaftway". This
 vertical platform lift fits perfectly into the modern building and is a great example of how Garaventa Lift products can be designed to blend and compliment any building design and style.
A big thank you to lead installer Rolando Rodriguez and his team for their great work and dedication!
About the Genesis Shaftway: 
The Genesis Shaftway Model fits inside a vertical runway (also known as a hoistway or shaftway) that is built by others in accordance to Garaventa Lift specifications.
Highlights
Low cost
ADA compliant
Blends in with any decor
Tactile and illuminated controls
Did you install an outstanding lift recently? Do you think one of your projects deserves to be Project of the Month? Send us pictures and a short story of your latest project at
marketing@garaventalift.com
Contact us for more information