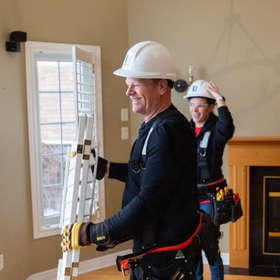 We are delighted to have partnered with Holmes Family Rescue and to have worked with Mike on a very meaningful project.
Holmes Family Rescue is twelve-episode series aiming at rescuing home owners who are suffering from botched construction jobs and are experiencing home renovation fatigue. We worked with the team to design and install an Elvoron MR Home Elevator to help a family and their little one attain better accessibility.
Noah, a lovely
four-year-old, can now easily go in and out of his home in his wheelchair thanks to the custom-made elevator setup by our skilled team.
Noah's home elevator is a state-of-the-art two-stop Elvoron Home Elevator.
The interior designer installed some creative wallpaper in the cab, transforming it into a fairy tale setting for Noah. Take a look at the clouds-patterned wallpaper on his elevator.
Note: Third-party baffle doors installed for this project.
About the Elvoron Home Elevator:
Elvoron Home Elevators are designed for residential homes, add value to your home, and are comfortable, quiet and reliable. They can be customizable with various colors, finishes, and materials to suit any style, budget or project.
Highlights
Reduce heavy lifting when transporting storage, laundry or groceries
Meet or exceed all local and national safety code requirements
Customizable with a variety of colors, finishes, materials and fixtures
Different door and cabin wall options
Contact us for more information