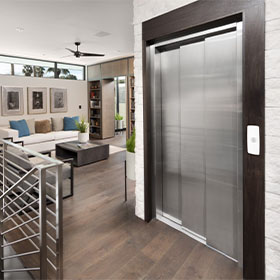 We are excited to share that the Garaventa Lift Home Elevator was again part of the New American Home 2021! Every year the home features the latest innovative building products that contribute to comfort, luxury and energy efficiency. For several years the Elvoron Home Elevator has been selected by the National Association of Home Builders as a leader in the elevator industry. The Home Elevator in the New American Home was installed by the Garaventa Lift branch in Florida.
Find out more about the innovative products that were part of the New American Home 2021 in Pro Builder's recent article – a leading business content provider for the U.S. housing industry. We are proud that Garaventa Lift was listed as one of the top 17 exceptional products.
Step inside the New American Home 2021 
You can check out the New American Home thanks to a 3D Virtual Tour. Wander from room to room and explore the different innovative products. Can you spot the Home Elevator? 
About the Home Elevator
Elvoron home elevators are designed for residential homes, add value to your home, and are comfortable, quiet and reliable. They can be customizable with various colours, finishes, and materials to suit any style, budget or project. The elevator includes a premium door package with sliding hall doors and interior doors. 
Highlights
Reduce heavy lifting when transporting storage, laundry or groceries

Meet or exceed all local and national safety code requirements.
Customizable with a variety of colours, finishes, materials and fixtures
Different door and cabin wall options
Contact us for more information