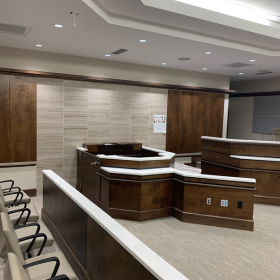 Installed by: Garaventa Lift Alabama Branch
Location: The Pike County Courthouse, Alabama
Installation year: 2023
We've got some exciting news to share—our incredible Garaventa Lift Alabama Branch has snagged the well-deserved title of Project of the Month winner for June! Let's raise the roof and give a big shout-out to our rockstar team!
So, what's the buzz all about? Well, picture this: The Pike County Courthouse was in need of some serious accessibility upgrades for its witness stands. That's where our Alabama Branch stepped in with their superhero capes on. They tackled the challenge head-on, using our Genesis Shaftway model to install not just one, but FOUR witness stand lifts. Talk about making a grand entrance into the world of accessibility, right?
Now, let's get real. Figuring out how to make our product comply with the Courtroom Section of ASME and meet the specific needs of the courtroom was no walk in the park. But our Alabama team didn't back down. They put their thinking caps on, burned the midnight oil, and collaborated closely with the Pike County Courthouse crew to find the perfect solution.
The end result? Four witness stand lifts not only ticked all the required boxes but also knocked it out of the park in terms of functionality and style. The Garaventa Lift Alabama Branch nailed it, showcasing its problem-solving prowess and commitment to delivering excellence. You've made us all proud!
We want to take a moment to celebrate the entire Garaventa Lift Alabama Branch team for their stellar achievement. Your hard work, dedication, and ability to think outside the box have once again proven that you're the cream of the crop. We're thrilled to have such an amazing team representing our company.
Let's give a virtual high-five to our Alabama heroes for their Project of the Month win. Keep rocking those accessibility projects and making a difference in people's lives!
About the Genesis Shaftway: 
The Genesis Shaftway Model fits inside a vertical runway (also known as a hoistway or shaftway) that is built by others in accordance to Garaventa Lift specifications.
Highlights
Low cost
ADA compliant
Blends in with any decor
Tactile and illuminated controls
Did you install an outstanding lift recently? Do you think one of your projects deserves to be Project of the Month? Send us pictures and a short story of your latest project using the link below.
Contact us for more information