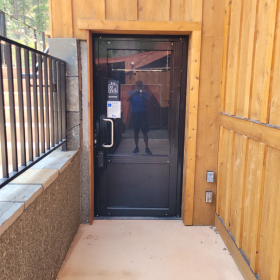 In the heart of Montana's serene Paradise, Quinns Hot Springs sought to remodel its facilities, prioritizing accessibility for all. This transformation required a standout accessibility solution, and Access Outfitters delivered in style. The star of the show? The Genesis Shaftway lift.
What makes the Genesis Shaftway truly exceptional is its seamless blend of form and function. For this project, a sleek black powder coat finish was chosen, elevating not just accessibility but the entire aesthetic of the space. It became more than a lift; it became an integral part of the resort's ambiance. This installation at Quinns Hot Springs serves as a shining example of Access Outfitters' commitment to making spaces more inclusive and beautiful through innovative accessibility solutions. Congratulations to Access Outfitters for their dedication to transforming spaces and enhancing lives.
About the Genesis Shaftway: 
The Genesis Shaftway Model fits inside a vertical runway (also known as a hoistway or shaftway) that is built by others in accordance to Garaventa Lift specifications.
Highlights
Low cost
ADA compliant
Blends in with any decor
Tactile and illuminated controls
Did you install an outstanding lift recently? Do you think one of your projects deserves to be Project of the Month? Send us pictures and a short story of your latest project using the link below.
Contact us for more information