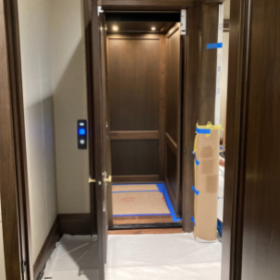 Congratulations to our  partner Access Elevator & Lifts, Inc. for being named Project of the Month for December! A stunning Elvoron MR Home Elevator was installed at a private residence in Sioux Falls, South Dakota, USA.
Access Elevator & Lifts, Inc. provided a comprehensive turn-key solution for this project. They had to add raised panels to the cab and also framed the COP, which was an impressive stroke of innovation on the team's part. This home elevator does have a spatial effect and an excellent touch thanks to the premium, exquisite details. The Black glass hall stations and COP, tinted gate panels with bronze hardware The mix of materials and a contrast between contemporary and rustic add character and warmth to the home. It is a perfect example of a timeless, feel-good home and an inspiration for homeowners who want to invest in accessibility and autonomy while maintaining design and elegance.

About the Elvoron Home Elevator: 
Elvoron Home Elevators are designed for residential homes, add value to your home, and are comfortable, quiet and reliable. They can be customizable with various colours, finishes, and materials to suit any style, budget or project.
Highlights
Reduce heavy lifting when transporting storage, laundry or groceries
Meet or exceed all local and national safety code requirements.
Customizable with a variety of colours, finishes, materials and fixtures
Different door and cabin wall options
Did you install an outstanding lift recently? Do you think one of your projects deserves to be Project of the Month? Send us pictures and a short story of your latest project at marketing@garaventalift.com
Contact us for more information