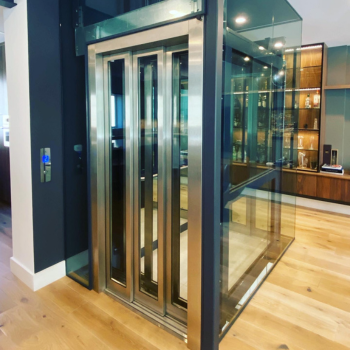 In the world of elevators and accessibility solutions, each project presents its own unique challenge and opportunity. We are delighted to extend our heartfelt congratulations to our esteemed partners and long-term dealers, Upper Canada Elevators, for their well-deserved recognition as the Project of the Month winner for August! Their latest achievement involved the installation of an impressive Elvoron HR Home Elevator at a private residence nestled in the charming Byward Market in downtown Ottawa, Ontario.
This project is truly a standout. Upper Canada Elevators took on the task of installing the Elvoron HR Home Elevator, featuring a Glass Cab HR with stainless steel glass 3-speed doors at each landing. This elegant elevator combines both aesthetics and functionality, providing residents with a convenient and luxurious mode of vertical transportation within their homes.
Let's take a closer look at some of the remarkable features that make this project truly special:
Premium Mirror Stainless COP: The elevator's COP features premium mirror stainless, adding a touch of sophistication to the interior.

Premium Brushed Stainless Handrail: Safety and style come together with the inclusion of a premium brushed stainless handrail, providing both support and a sleek design element.

Premium Display Mirror Vega Hall Stations: The hall stations, showcasing the premium display mirror Vega design, are not only functional but also seamlessly blend into the home's aesthetic.

Glass Aluminum Car Walls with a Dark Blue Finish: The use of glass aluminum car walls with a dark blue finish is a bold and captivating choice, adding a vibrant personality to the elevator.

Colored Rail Brackets to Match the Car: Attention to detail is evident in the choice of colored rail brackets that perfectly match the car's finish, creating a harmonious design.
This project highlights Upper Canada Elevators' commitment to delivering excellence and innovation in the field of accessibility solutions. Their ability to seamlessly blend technology with exceptional design showcases their expertise and dedication to customer satisfaction.
As a partner, Upper Canada Elevators continues to impress us with their outstanding work. Their involvement in projects like this raises the bar in the industry and enhances the lives of those they serve. We are proud to have Upper Canada Elevators as part of our team and look forward to more successes together.
Congratulations once again to Upper Canada Elevators for their well-deserved recognition as the Project of the Month winner for August. Here's to more outstanding projects and a future filled with innovation and excellence!
About the Elvoron Home Elevator: 
Elvoron Home Elevators are designed for residential homes, add value to your home, and are comfortable, quiet and reliable. They can be customizable with various colours, finishes, and materials to suit any style, budget or project.
Highlights
Reduce heavy lifting when transporting storage, laundry or groceries
Meet or exceed all local and national safety code requirements.
Customizable with a variety of colours, finishes, materials and fixtures
Different door and cabin wall options
Did you install an outstanding lift recently? Do you think one of your projects deserves to be Project of the Month? Send us pictures and a short story of your latest project at marketing@garaventalift.com
Contact us for more information