Supertrac - Portable Inclined Wheelchair Lift
Super-Trac - Portable Wheelchair Lift
The Garaventa Super-Trac is a portable wheelchair platform lift that provides instant, affordable accessibility where stairways are a barrier. The unique platform design accommodates all types of wheelchairs including power, child, sports and conventional adult wheelchairs. The Super-Trac is easy to operate, robust and incorporates many safety features.
No costly building renovations, installation permits or licenses are necessary with Super-Trac. For a quick, affordable, accessibility solution, check out the Super-Trac portable wheelchair lift.
---
Highlights:
True portable platform

440lbs Capacity

Easy to operate

Rechargeable battery
---
More information can be found in the Downloads
Downloads
---
Large platform will accommodate virtually any wheelchair, including electric and sports chairs.

Integrated non-slip loading ramp.

Powerful dual motors carry up to 440 lbs.(200 kgs).

Rechargeable battery and charger.

Operates on indoor and outdoor stairways.

Wide, double tracks securely grip stairs.

Large wheels allow easy travel across landings between stair flights.

Integrated tie-down straps and seatbelt hold wheelchair securely on platform.

Adjustable headrest.

Easy to use controls.

Robust commercial design.
Instant accessibility solution.

Economical compared to elevators and custom designed wheelchair lifts.

Requires no building renovations, no installation permits or licenses.

No permanent impact on stairway egress width.

A single unit provides access into many buildings.

Easily stored in a secure area when not in use.

Requires minimal maintenance compared to an elevator or wheelchair lift .

Great backup system for evacuation if power fails.
---
Operation of the Super-Trac
Super-Trac is simple to use. As shown in this sequence, a small operator can easily transport a passenger in a heavy power wheelchair up and down stairs. Above, the passenger has boarded the platform using the integrated ramp. The wheelchair is being secured using 4 adjustable tie-down straps. An electrically interlocked seat belt provides additional passenger security.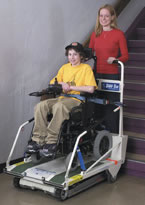 Once Super-Trac is loaded it can be easily rolled across flat surfaces, such as stair landings, using the auxiliary wheels. When not in use Super-Trac can be wheeled into a storage room. In this photo, Super-Trac has been rolled to the base of the stairway. The operator will then tilt the platform, using the hydraulic tilt control, and begin climbing the stairs.
Super-Trac climbs stairs up to a maximum angle of 35 degrees. When on the stairs, the passenger sits in a comfortable, level position. Dual electric motors will propel Super-Trac up 30 flights of stairs on a single charge. The wide track design provides excellent stability on the stairs. No exertion is required on the part of the operator who simply guides Super-Trac.
Specifications
---
Max Capacity
440 lbs/200kgs
Brake
Fail-safe Electromagnetic
Max Stair Angle
35°
Weight
253 lbs (115 kgs)
Power
Sealed Batteries 24 V
Speed Up
21.4 ft (6.5 m) / min
Speed Down
34.7 ft (10.6 m) / min
Charging
Automatic 110/220 VAC
Downloads
---