Stairtrac - Portable Inclined Wheelchair Lift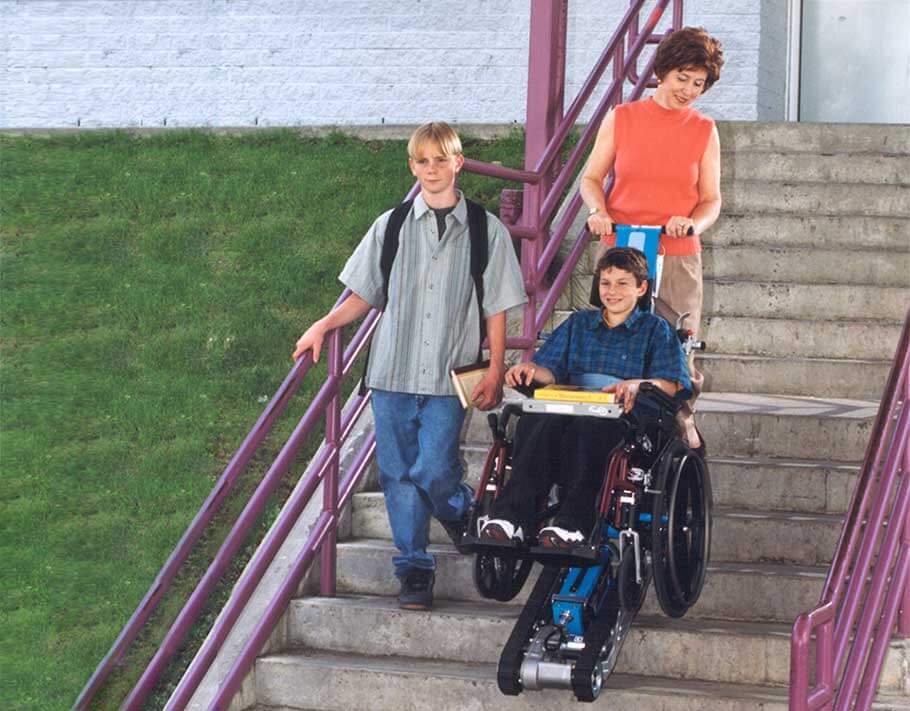 Garaventa Stair-Trac
The Garaventa Stair-Trac is a portable wheelchair lift that attaches under most standard wheelchairs and can be used indoors or outdoors. It allows an attendant to easily move a person in a wheelchair up and down stairways with the touch of a button. The Stair-Trac is an affordable access solution that is available immediately.
On school field trips, church excursions or weekend drives, this portable wheelchair lift is easy to load into vehicles using the optional loading ramp and fits in most car trunks.
---
Highlights:
Portable

Ease of deployment

Easy to operate

Rechargeable battery
---
More information can be found in the Downloads
Downloads
---
Stair-Trac features
Attaches to most standard wheelchairs with push handles (adult/child).

Powered to carry 150kg (330 lbs) up approximately 30 floors before re-charging.

Use on virtually any indoor or outdoor stairway.

Stable and self-supporting.

Durable tracks grip stairs securely.

Detachable support handle for compact storage and easy transport.

Quick-release safety belt.

Key switch restricts use to authorized persons.

Rechargeable batteries and charger.
Benefits of the Stair-Trac
Can be used on various stairways within a building.

Can be used when electrical power fails or is not available.

Easily stores in a secure area when not in use.

Can be used for emergency evacuation to move people up or down stairs and out of the building.

Affordable accessibility solution.

Requires minimal maintenance.

Available immediately.
Stair-Trac Loading Ramp:

The optional Loading Ramp fits in most car trunks and is ideal for taking the Stair-Trac on excursions, outings and school field trips.

Battery Pack:

Additional battery packs allow for one battery to be charged while the other battery is operating the Stair-Trac.
Specifications

Wheelchair loading/unloading requires a minimum straight line clearance of approximately 3m/10ft. The diagram above shows typical clearances required on turn back stairways. Dimensions vary with stairway width and operator experience. Consult Garaventa Lift or your local Garaventa Lift Representative for clearance verification.
| | | | |
| --- | --- | --- | --- |
| Load Capacity: | 150kg/330lbs | | |
| Power Capacity: | 650 stairs) | | |
| Speed - Up: | 6.1m (20ft)/min | | |
| Speed - Down | 10.7m (35ft)/min | | |
| Motor: | 12 V dc | | |
| Batteries: | 2 x 6V, 20AH | | |
| Maximum Charge Rate: | 4 amp | | |
| Optimum Stair Angle: | 35° | | |
| Weight | | | |
| Drive Frame | 44kg/97lbs | | |
| Support Handle | 15kg/33lbs | | |
| Total Weight | 59kg/130lbs | | |
| Dimensions | | | |
| Height | 903mm/35-5/8in. | | |
| Length | 1453mm/57-1/4in. | | |
| Width | 644mm/25-3/8in. | | |