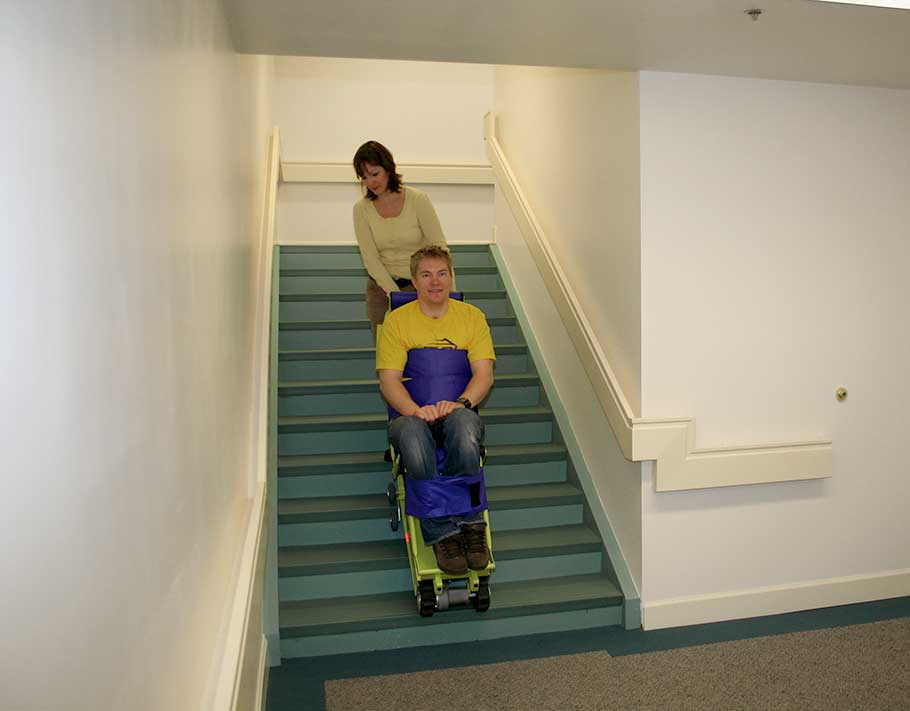 PowerTrac - Emergency Evacuation Chair
The Power Evacu-Trac is a versatile stair-climbing chair that can be used for emergency evacuation from below ground level to the exit level. It can also be used to provide a versatile stairway access solution for the elderly or those unable to climb stairs. A powerful motor and battery allow a small attendant to easily move a heavy passenger up and down stairs with the push of a button. Rubber tracks securely grip the stairs.
---
Highlights:
Fast Deployment

Motorized Ascent

Low center of gravity

One-person operation
---
For more information contact us
Contact
---
Standard Features of the Powertrac
Quick and easy set up for immediate use.

Carries up to 300 lbs.(136 kgs).

Small attendant can easily transport a heavier passenger.

Motor controls speed of ascent and descent.

Electromagnetic brake stops and holds unit on stairs.

Auxiliary wheels allow fast and easy travel across landing areas.

Comfortable seat design allows easy transfer from wheelchair.

Wide, adjustable passenger restraining straps.

Sturdy steel-reinforced rubber tracks grip all stair materials.

Includes rechargeable battery & automatic charger.

Controls include a battery charge status indicator.
---
Provides quick and safe emergency evacuation.

Can easily evacuate upstairs from below ground level.

Works even when the power fails.

Small attendant can evacuate heavy passenger.

Can be used to provide access upstairs.

Mobile access solution - can be moved to different buildings.

Folds down for easy storage when not in use.