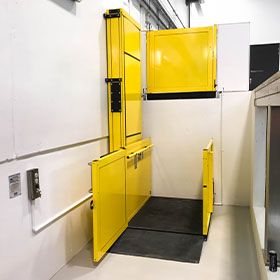 Product: Genesis OPAL
Installed by: PR King & Sons
Location: Edith Cowan University (ECU) in Western Australia. 
Installation year: 2018
Together with local experts, Garaventa Lift can respond flexibly and creatively to the customer's wishes and needs. For our Australian dealer PR King & Sons we produced a yellow Genesis OPAL. PR King's team installed the custom colored vertical platform lift at the Edith Cowan University in Western Australia. 
Thank you PR King & Sons for the great partnership and for carrying forward our brand.
About the Genesis OPAL: 
The Genesis OPAL vertical lift easily transports passengers up and down short vertical distances, for applications such as stages and porches. The platform walls, platform gate and optional automatic folding ramp travel with the platform creating a safety barrier around the passenger.

Highlights
Low cost
Fast installation
Ideal for stage access
Did you install an outstanding lift recently? Do you think one of your projects deserves to be Project of the Month? Send us pictures and a short story of your latest project at
marketing@garaventalift.com
Contact us for more information