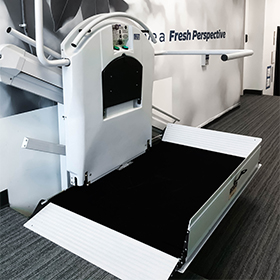 Our friends at Bedco Mobility Inc. installed two Xpress II in the premium office building '2245 M Street' in downtown Washington DC and inspired the Project of the Month October – congratulations!
The two inclined wheelchair lifts were installed in close proximity to one another and allow access from the penthouse elevator to the stunning roof top terrace of the nine-story building.
A big thank you to Bedco Mobility's team for this great installation and for carrying forward the Garaventa Lift brand.
About the Xpress II: 
The Xpress II is an inclined platform lift designed to provide economical access between two landings. The platform travels on two rails which are secured directly to the wall and can be folded when it is not being used.
Highlights
Low cost
ADA access
Space Saver
Did you install an outstanding lift recently? Do you think one of your projects deserves to be Project of the Month? Send us pictures and a short story of your latest project at
marketing@garaventalift.com
Contact us for more information