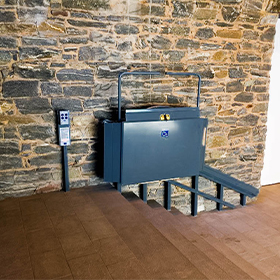 Product: Xpress II
Installed by: Handi Lift Inc.
Location: Empire Stores building, Brooklyn, NY, USA
Installation year: 2017
Our dealer Handi Lift installed a customized Xpress II at the Empire Stores building in downtown Brooklyn which is located on the waterfront of the East River. The building used to be an old warehouse with stone walls. Therefore, a custom color was chosen for the project to match the stone wall. Another nice feature is the embedment of the towers in the concrete core in order to hide the connection between the bolts and nuts. This resulted in a very slick design. Thank you Handi Lift for this great installation and for carrying forward our brand!
The Empire Stores is a popular location along the waterfront Brooklyn Bridge Park with a stunning view of Manhattan. Visitors of the former warehouse complex will find a market hall, art gallery, high end retail shops and a rooftop beer garden to enjoy the views of New York City. Get more impressions on the official website: https://empirestoresdumbo.com/
About the Xpress II: 
The Xpress II is an inclined platform lift designed to provide economical access between two landings. The platform travels on two rails which are secured directly to the wall and can be folded when it is not being used.
Highlights
Low cost
ADA access
Space Saver
Did you install an outstanding lift recently? Do you think one of your projects deserves to be Project of the Month? Send us pictures and a short story of your latest project at
marketing@garaventalift.com
Contact us for more information