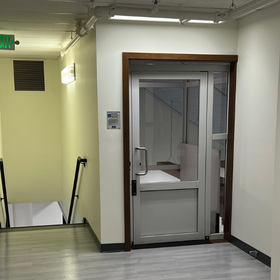 When residents of the Jefferson Community Center want to move between floors, they no longer have to wait till someone is available to help them out. They simply get on a Vertical Platform Lift and go through the door. Mobility Concepts Inc., one of our dealers installed two Vertical Platform Lifts at the building – a Genesis Enclosure Model and a Genesis OPAL to make this 90 year old building accessible.
Originally constructed in the 1930s, the community center has had several renovations and additions throughout the years. Jefferson is a three-story structure with two preschool rooms and a music room upstairs. Hasselberg Hall, a pottery room, a conference room, a social space, and a gym are all on the main level. Downstairs, there is a teen room and a maintenance area.
Jefferson Community Center is located in the recently expanded and renovated Jefferson Park in Seattle's Beacon Hill neighborhood, only minutes from downtown. This destination park features a big play area, spray park, zip lines, tennis courts, skate park, cricket pitch, sports fields, lawn bowling green, Seattle's oldest golf course, and a fantastic 3/4-mile walking path. There are horticulture facilities for Seattle Parks and Recreation, a fire station, and Mercer Middle School close by.
Thank you Mobility Concepts Inc. for this fantastic installation and for carrying forward the Garaventa Lift brand!
About the Genesis Enclosure: 
The Genesis Enclosure Model is a vertical platform wheelchair lift that provides access in private or commercial buildings. No shaft construction is needed, and a variety of optional features allow for extensive customization for your individual project.
Highlights
No shaft construction
Modular
Indoor / Outdoor
Glass enclosure
About the Genesis OPAL: 
The Genesis OPAL vertical lift easily transports passengers up and down short vertical distances, for applications such as stages and porches. The platform walls, platform gate and optional automatic folding ramp travel with the platform creating a safety barrier around the passenger.
Highlights
Low cost
Fast installation
Ideal for stage access
Did you install an outstanding lift recently? Do you think one of your projects deserves to be Project of the Month? Send us pictures and a short story of your latest project at marketing@garaventalift.com
Contact us for more information