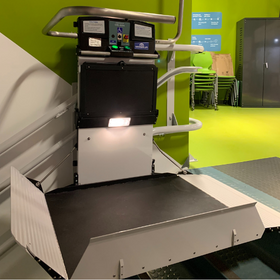 The Garaventa Lift branch in British Columbia installed a beautiful Artira at Vancouver's iconic Science World. The Team had planned to upgrade their existing lift, but due to the global pandemic and financing constraints, the window closed and they were finally able to replace it completely.
Science World is a science centre located in Vancouver, British Columbia. It is located at the end of False Creek and offers several permanent interactive exhibits and displays, as well as learning facilities for youngsters (and adults).
The structure was built as the Expo Centre for the Expo 86 world's fair. Following the conclusion of Expo 86, the building was repurposed into a Science Centre. Science World opened on May 6, 1989, and Garaventa installed the first lift that year to enable accessibility.
Science World is completely accessible and will soon have a Genesis enclosure VPL installed inside their Omnimax Theatre. The elevator in the picture connects to an interactive learning room located directly above the kids space gallery. The area created different challenges due to its original architecture, but our project management team met them straight on. We're thrilled to have played a role in allowing children to use this excellent facility, and the team is looking forward to installing the vertical platform lift early next year.
About the Artira: 
The Artira is an inclined platform lift designed to carry passengers up and down straight or curving stairways, over flat landings or over spiral staircases.
Highlights
Designed to fit your stairway
Indoor / Outdoor
Space Saver
Did you install an outstanding lift recently? Do you think one of your projects deserves to be Project of the Month? Send us pictures and a short story of your latest project at marketing@garaventalift.com
Contact us for more information