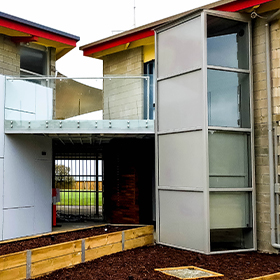 Product: Outdoor Genesis Enclosure
Installed by: PR King & Sons
Location: McCrae Yacht Club in Australia
Installation year: 2020
Our Australian Dealer PR King & Sons installed an outdoor Genesis Enclosure with glass doors and inspired the Project of the Month November. Congratulations to the fantastic PR King Team!
To match the clients wish full panel glass doors and a custom panel glass enclosure were chosen. Full height side walls on the platform, a sloped roof and infill panels at the upper landing complete this elegant project.
About the Genesis Enclosure:
The Genesis Enclosure Model is a vertical platform wheelchair lift that provides access in private or commercial buildings. No shaft construction is needed, and a variety of optional features allow for extensive customization for your individual project.
Highlights
No shaft construction
Modular
Indoor / Outdoor
Aluminium enclosure
Did you install an outstanding lift recently? Do you think one of your projects deserves to be Project of the Month? Send us pictures and a short story of your latest project at
marketing@garaventalift.com
Contact us for more information