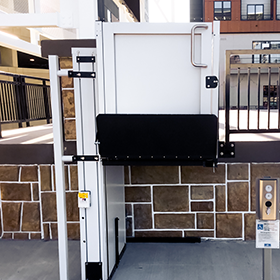 Product: Genesis OPAL
Installed by: Access Elevator and Lifts
Location: 'The Lights' in Sheyenne, West Fargo, North Dakota, USA 
Installation year: 2020
Congratulations to our dealer Access Elevator and Lifts, for winning the Project of the Month July! Access Elevator did a fantastic job installing an OPAL at the new outdoor facility "The Lights" in Sheyenne, West Fargo, North Dakota.
"The Lights" is a new outdoor facility that hosts concerts and family events. Thanks to Access Elevator, the facility's main stage is now wheelchair accessible.
About the Genesis OPAL
The Genesis OPAL vertical lift easily transports passengers up and down short vertical distances, for applications such as stages and porches. The platform walls, platform gate and optional automatic folding ramp travel with the platform creating a safety barrier around the passenger.

Highlights
Low cost
Fast installation
Ideal for stage access
Did you install an outstanding lift recently? Do you think one of your projects deserves to be Project of the Month? Send us pictures and a short story of your latest project at marketing@garaventalift.com.