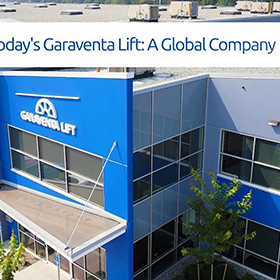 Garaventa Lift is thrilled to officially release a new corporate profile video that helps to share the story of Garaventa Lift with employees, customers, partners and investors around the world. The new video helps us to better communicate the identity, values, and goals of the company.
The video currently has two versions, a version for international use by the entire Garaventa Lift Group, and a version more specific to local North American operations. Localized and translated versions for Garaventa Lift's key international territories are planned to be released soon.
"In four short minutes, the video allows us to clearly express who we are and what we do to an audience that may be unfamiliar with the brand and its history. When we tested an early version at NAEC the feedback was resoundingly positive – even people long familiar with Garaventa Lift said they learned new things about the company," says Vince Sciamanna, President of Garaventa Lift North America.
The video opens with a segment on the company history: its birth in Switzerland, entrance to North America, and evolution to become a leader in lifts and elevators.  It then moves on to showcase the company today, showcasing its present-day operations and values while going on a journey from manufacturing, to distribution, to dealer network, to customer. The video then highlights the 4 key markets of Garaventa Lift: Public Accessibility, Residential Accessibility, Independent Living, and Residential Lifestyles. The video closes strongly with an invitation to discover more about Garaventa Lift products, solutions, and opportunities on our website.
This new video is a great tool that will be used at trade shows and events, on Garaventa Lift's website and social media accounts, in online profiles, and in presentations and employee training. It also provides a great base from which to build future video releases.
LINKS:
International Version: https://www.youtube.com/watch?v=D0fV80ThP4I
North American Version: https://www.youtube.com/watch?v=krOHHDGTElI
###
About Garaventa Lift
Garaventa Lift is a global company that designs, installs and maintains individual custom lift solutions for commercial and residential applications. The roots of the company date back to 1928, when Garaventa pioneers built their first cable car in the Swiss Alps and founded the company.
Today, Garaventa Lift has grown into a global market leader thanks to innovative design, product functionality, and overall quality and safety. Our lifts are installed and maintained in over 100,000 private homes and public facilities such as office buildings, places of worship, universities and train stations.
SOURCE Garaventa Lift                                                                               
Media Contact for further information or interview requests
Corporate Communications  .  Garaventa Lift
corporate.communications@garaventalift.com
www.garaventaliftgroup.com