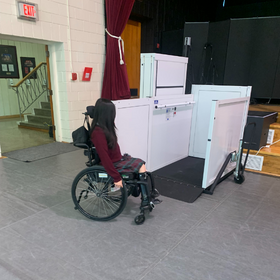 Congratulations to Garaventa Lift Maple Ridge, BC Branch for being named Project of the Month for January! This recognition is well-deserved, and we are thrilled to highlight the incredible work they have done.
The Little Flower Academy in Vancouver recently received a one-of-a-kind Genesis STAAGE – Vertical Portable Lift installation, which was the perfect solution for their needs. As seen in the photos, the lift was installed to provide access to the front of the stage, as there was no rear access available. The installation required a slight modification, which involved removing a section of the stage stair.
The first person to ride the lift was a young girl, as technician Rolando Rodriguez took pictures. This event was truly a moment to celebrate, as it marked the successful completion of a project that had made the building fully accessible. Thanks to the hard work of Rolando and his crew, the Little Flower Academy is now a more inclusive and welcoming place for everyone.
It's worth noting that Rolando and his team specialize in accessibility products, and they are the best in the company at what they do. The Genesis STAAGE – Vertical Portable Lift is a unique product that fills a very special niche in the market. This installation was just one of many examples of how Garaventa Lift is committed to providing accessibility solutions that make a real difference in people's lives.
We are thrilled to honor Garaventa Lift Maple Ridge, BC Branch for their exceptional work and for making a difference in the lives of the students at Little Flower Academy. Congratulations on being named Project of the Month!
About the Genesis Staage: 
The Genesis STAAGE lift is a safe, simple and cost-effective accessibility solution for low-rise vertical barriers such as stages and podiums. This lift is easy to use and can be wheeled out of sight when wheelchair accessibility is not required.
Highlights
Portable

Plug-in 120V power

Adjustable upper travel limit

Under platform obstruction sensor
Did you install an outstanding lift recently? Do you think one of your projects deserves to be Project of the Month? Send us pictures and a short story of your latest project at marketing@garaventalift.com
Contact us for more information