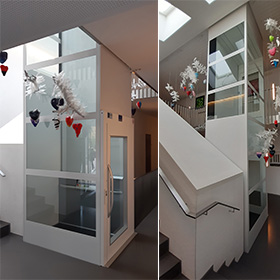 Product: Genesis Typ B
Installed by: Garaventa Liftech AG
Location: School building in Tägerwilen, Switzerland
Installation year: 2020
We are very happy to announe that for the first time the project of the month goes to our branch in Switzerland. Our branch installed a beautiful Genesis Type B Type B in a 40 year old school building in the small town of Tägerwilen, Switzerland. Garaventa Liftech AG was able to implement a lift solution that blends in well with the existing building and was installed within a few days only.
A big thank you and congratulation to our team in Switzerland! We are proud to have a global presence that allows Garaventa Lift to support mobility also outside of North America.
*Please note that code compliance varies around the world and this installation might not be compliant in your area.
Contact us for more information