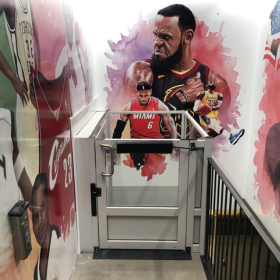 Installed by: Handel & Sons
Location: LeBron James Family Foundation center in downtown Akron
Installation year: 2023
Hey there, folks! We're beyond thrilled to shout out a huge congratulations to our incredible dealer, Handel & Sons, for snagging the well-deserved title of Project of the Month winner for April. This one's a real doozy—a super special project that had us all grinning from ear to ear. Picture this: our rockstar Genesis Enclosure lift found its perfect home at none other than the LeBron James Family Foundation center in downtown Akron. Yeah, you heard that right!
Now, let's get real for a sec. This project had its fair share of hiccups. Permits? Pfft, they took their sweet time. And don't even get us started on the foundation wrangling everything together. Time was running out, and the center's grand opening was looming closer than LeBron driving to the hoop. But guess what? Handel & Sons swooped in like heroes, giving us a call for an express delivery. They knew that without a trusty Garaventa Lift, the center couldn't meet their big opening day deadline.
No time to waste, people! Our Order Management Team sprang into action, going above and beyond to squeeze Handel & Sons into our jam-packed production schedule. It was like trying to fit a seven-footer into a smart car, but we made it happen with sheer determination and some clever maneuvering. We shipped out a top-notch Genesis Enclosure lift faster than LeBron can nail a game-winning shot. Swish!
Now, let's talk about Handel & Sons. These guys are the real MVPs of this story. They brought their A-game, showing off their mad skills and expertise during the installation. With surgical precision and an eye for perfection, they had that lift up and running like a dream. Seriously, we couldn't have asked for a better team to handle the job (pun intended).
Thanks to the unstoppable partnership between Garaventa Lift and Handel & Sons, that Genesis Enclosure lift got installed, inspected, and handed over to the LeBron James Family Foundation center just in the nick of time. It's like having a golden ticket to accessibility for folks who need it most. Score one for inclusivity!
So, let's raise our glasses and give a thunderous round of applause to Handel & Sons for taking home the coveted Project of the Month crown. You guys crushed it! We're proud to be part of your winning team and look forward to more jaw-dropping projects together. Here's to pushing boundaries, overcoming challenges, and making the world a more accessible and inclusive place.
Congratulations, Handel & Sons! You've knocked it out of the park, and we can't wait to see what epic adventures lie ahead. Keep rocking, legends!
About the Genesis Enclosure: 
The Genesis Enclosure Model is a vertical platform wheelchair lift that provides access in private or commercial buildings. No shaft construction is needed, and a variety of optional features allow for extensive customization for your individual project.
Highlights
No shaft construction
Modular
Indoor / Outdoor
Glass enclosure
Did you install an outstanding lift recently? Do you think one of your projects deserves to be Project of the Month? Send us pictures and a short story of your latest project at marketing@garaventalift.com
Contact us for more information