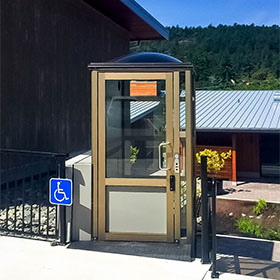 Product: Genesis Enclosure
Installed by: Garaventa Lift BC Branch
Location: View Royal, British Columbia, Canada
Installation year: 2017
The local Garaventa Lift branch in British Columbia, Canada installed a beautiful outdoor Genesis Enclosure in View Royal on Vancouver Island. The project was realized for a new sustainable development area called 'Lakeside Village' that offers a variety of local shops, dining and office spaces. Thanks to the team's fantastic work the Lakeside Village is easily accessible and fits the modern touch of the new community. 
*Please note that in some cases an overhang or coverage above the lift is required or recommended due to harsh environment.
About the Genesis Enclosure: 
The Genesis Enclosure Model is a vertical platform wheelchair lift that provides access in private or commercial buildings. No shaft construction is needed, and a variety of optional features allow for extensive customization for your individual project.
Highlights
No shaft construction
Modular
Indoor / Outdoor
Aluminium enclosure
Did you install an outstanding lift recently? Do you think one of your projects deserves to be Project of the Month? Send us pictures and a short story of your latest project at
marketing@garaventalift.com
Contact us for more information