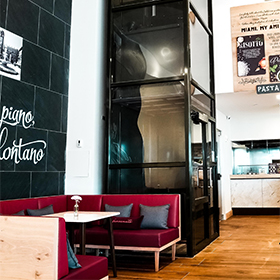 Product: Genesis Enclosure
Installed by: Garaventa Lift Branch in Florida
Location: Vapiano Restaurant, CityPlace Doral shopping mall, Florida, USA
Installation year: 2018
The Garaventa Lift branch in Florida installed a Genesis Enclosure at the Vapiano restaurant in the CityPlace Doral shopping mall in Florida, US. Thanks to this great installation the Vapiano has now a vertical inclined lift solution to ensure access to the upper floor of the Italian restaurant.
Restaurants should provide accessibility features to offer a comfortable and enjoyable experience for every guest. One of Garaventa Lift's main goals is to improve public places like restaurants, schools, churches, offices, etc. by making them accessible. 
About the Genesis Enclosure: 
The Genesis Enclosure Model is a vertical platform wheelchair lift that provides access in private or commercial buildings. No shaft construction is needed, and a variety of optional features for your individual project.
Highlights
No shaft construction
Modular
Indoor / Outdoor
Aluminium enclosure


Did you install an outstanding lift recently? Do you think one of your projects deserves to be Project of the Month? Send us pictures and a short story of your latest project at
marketing@garaventalift.com
Contact us for more information