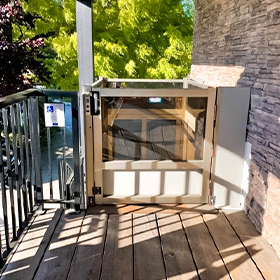 Product: Genesis Enclosure
Installed by: Garaventa Lift branch in BC, Canada
Location: Kingfishers Waterfront Bar & Grill, Maple Ridge, BC, Canada
Installation year: 2008
Our goal is to make the world more accessible. Often it happens that in public places you can find yourself in front of steps or slopes that deprive you of living your day according to your desires and needs. When the architectural barrier is a drop of a few meters you can rely on a Garaventa Lift.
A couple of years ago, our team in British Columbia installed an outdoor Genesis Enclosure at the Kingfishers Waterfront Bar & Grill in Maple Ridge, BC, Canada. Thanks to the vertical platform lift, visitors can now easily access the restaurant on the upper floor. 
About the Genesis Enclosure: 
The Genesis Enclosure Model is a vertical platform wheelchair lift that provides access in private or commercial buildings. No shaft construction is needed, and a variety of optional features allow for extensive customization for your individual project.
Highlights
No shaft construction
Modular
Indoor / Outdoor
Aluminium enclosure
Did you install an outstanding lift recently? Do you think one of your projects deserves to be Project of the Month? Send us pictures and a short story of your latest project at marketing@garaventalift.com
Contact us for more information