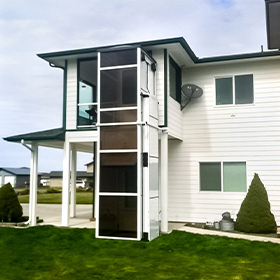 Product: Genesis Enclosure
Installed by: Mobility Concepts Inc
Location: Residence in Sequim, WA, USA
Installation year: 2018
To allow a client's elderly father to move in with them, our longterm partner Mobility Concepts installed an outdoor Genesis Enclosure. The lift was installed in Sequim WA, USA and was color customized in white to blend in with the client's home. This is a wonderful example on how a Garaventa Lift solution can help to keep elderly parents safe at home.
Thank you Mobility Concept for the fantastic job and for carrying forward the Garaventa Lift brand!
About the Genesis Enclosure: 
The Genesis Enclosure Model is a vertical platform wheelchair lift that provides access in private or commercial buildings. No shaft construction is needed, and a variety of optional features allow for extensive customization for your individual project.
Highlights
No shaft construction
Modular
Indoor / Outdoor
Aluminium enclosure
Did you install an outstanding lift recently? Do you think one of your projects deserves to be Project of the Month? Send us pictures and a short story of your latest project at
marketing@garaventalift.com
Contact us for more information