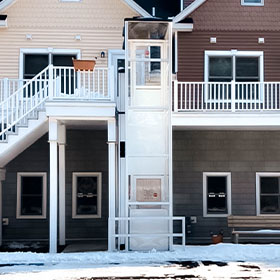 Product: Genesis Enclosure
Installed by: Syracuse Elevator
Location: Boathouse Townhome, Alexandria Bay, NY, USA
Installation year: 2020
Congratulation to our dealer Syracuse Elevator for winning Project of the Month January by installing a beautiful outdoor Genesis Enclosure in Alexandra Bay, NY, USA. The vertical platform lift was custom colored in white to fit the marina townhomes. Inhabitants can now easily access the upper level thanks to Syracuse's fantastic work!
Alexandria Bay in NY faces the beautiful area of the '1000 Islands', a group of more than 1'800 islands in the St. Lawrence River at the border of Canada and US. The region was a major battleground in the war of 1812 and is now a home to many lovely cottages, river homes and even some castles.
Once again, congratulations to the Syracuse Elevator team and thank you for carrying forward our brand!
About the Genesis Enclosure:
The Genesis Enclosure Model is a vertical platform wheelchair lift that provides access in private or commercial buildings. No shaft construction is needed, and a variety of optional features allow for extensive customization for your individual project.
Highlights
No shaft construction
Modular
Indoor / Outdoor
Aluminium enclosure
Did you install an outstanding lift recently? Do you think one of your projects deserves to be Project of the Month? Send us pictures and a short story of your latest project at
marketing@garaventalift.co
Contact us for more information