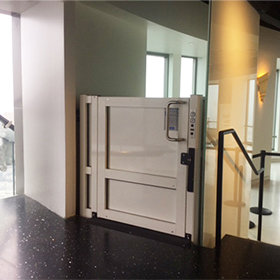 This unique installation at the OUE Skyspace in Los Angeles required no fear of heights! McKinley Elevator's team did a great job in installing a Genesis Enclosure in the Oue Skyspace – one of LA's tallest buildings. The lift was installed next to the famous glass Skyslide which goes from the 70th floor to the 69th floor on the outside of the U.S. Bank Building offering panoramic views of Downtown LA. The Forbes Travel Guide even named the Oue Skyspace slide one of Los Angeles' Top 10 attractions. Thanks to McKinley Elevator the slide is fully accessible through a custom colored Genesis Enclosure.
About the Genesis Enclosure:
The Genesis Enclosure Model is a vertical platform wheelchair lift that provides access in private or commercial buildings. No shaft construction is needed, and a variety of optional features allow for extensive customization for your individual project.
Highlights
No shaft construction
Modular
Indoor / Outdoor
Aluminium enclosure
Did you install an outstanding lift recently? Do you think one of your projects deserves to be Project of the Month? Send us pictures and a short story of your latest project at
marketing@garaventalift.com
Contact us for more information