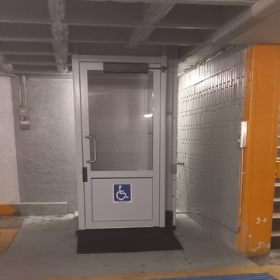 Product: Genesis Enclosure
Installed by: Soluciones de Accesibilidad
Location: Basílica de Santa María de Guadalupe, Mexico City, Mexico
Installation year: 2022
Congratulations to our dealer Soluciones de Accesibilidad for winning the April project of the month! They installed a stunning Genesis Enclosure at Mexico City's Basilica de Santa Maria de Guadalupe. The Basilica of Santa Maria de Guadalupe (Basilica of Our Lady of Guadalupe) is an important religious site in Mexico City. Today, the complex includes a basilica, a historic church, a gift store with religious items, a museum, and a library. Visitors lauded the basilica, declaring it a must-see.
The Genesis Enclosure Vertical Platform Lift, installed by our partners at Soluciones de Accesibilidad, provides access to the church from the parking lot. Given that the church has a considerable number of visitors throughout the year, it was critical to meet their accessibility demands.  This installation is one of our tallest Genesis Enclosure VPL (5925mm total travel) built by Garaventa Lift.
Thank you, Soluciones de Accesibilidad, for this wonderful installation and for taking the Garaventa Lift brand forward!
About the Genesis Enclosure: 
The Genesis Enclosure Model is a vertical platform wheelchair lift that provides access in private or commercial buildings. No shaft construction is needed, and a variety of optional features allow for extensive customization for your individual project.
Highlights
No shaft construction
Modular
Indoor / Outdoor
Aluminium enclosure
Did you install an outstanding lift recently? Do you think one of your projects deserves to be Project of the Month? Send us pictures and a short story of your latest project at marketing@garaventalift.com
Contact us for more information