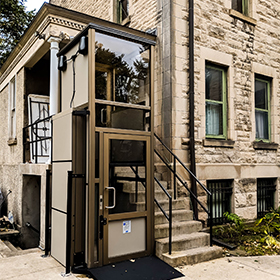 Our partner Northstar Lifts LLC installed an outdoor Genesis Enclosure at the historical 1890 House Museum in Cortland, NY, USA. The lift was customized to match the character of the Victorian architecture of the impressive building.
Thanks to the fantastic work of Northstar Lifts' team the 1st floor of the Museum is now fully accessible to allow everyone to step back in time to 19th century Cortland.  The museum tells the stories of the Wickwire family, their servants, and the factory workers who toiled in Wickwire Wire Mills Factory. Visitors can learn more about the local and national history of America's cultural heritage during the late 19th and early 20th centuries. Find out more on their Facebook page.
About the Genesis Enclosure: 
The Genesis Enclosure Model is a vertical platform wheelchair lift that provides access in private or commercial buildings. No shaft construction is needed, and a variety of optional features for your individual project.
Highlights
No shaft construction
Modular
Indoor / Outdoor
Aluminium enclosure
Did you install an outstanding lift recently? Do you think one of your projects deserves to be Project of the Month? Send us pictures and a short story of your latest project at marketing@garaventalift.com
Contact us for more information