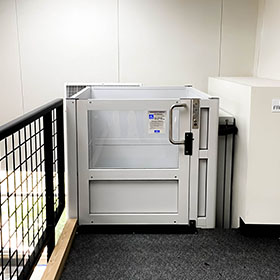 Our partner Hankin Specialty Elevators installed a beautiful Genesis Enclosure at a High School in Stockton, California, USA. This vertical platform lift was installed in the school's music room to allow students, professors and visitors to easily access it. Another great project that will make the life for lots of people easier.
Thank you Hankin Specialty Elevators for your work and for carrying forward the Garaventa Lift brand!
About the Genesis Enclosure:
The Genesis Enclosure Model is a vertical platform wheelchair lift that provides access in private or commercial buildings. No shaft construction is needed, and a variety of optional features allow for extensive customization for your individual project.
Highlights
No shaft construction
Modular
Indoor / Outdoor
Aluminium enclosure
Did you install an outstanding lift recently? Do you think one of your projects deserves to be Project of the Month? Send us pictures and a short story of your latest project at marketing@garaventalift.com
Contact us for more information