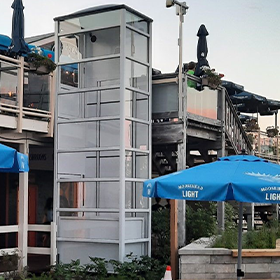 Congratulations to our dealer Lawtons Home HealthCare for winning project of the month August! They installed a beautiful outdoor Genesis Enclosure at the Peakes Quay Restaurant in the heart of Charlottetown on Prince Edward Island. The Peakes Quay is a popular spot with lots of merchants located in Charlottetown's historical waterfront. In the past, the restaurant had missed out on a few corporate bookings and had to turn away customers who could not navigate the stairs to get up to the restaurant. Today, the new lift is used around 12 times a day allowing people with mobility issues access to the establishment.
The restaurant manager, Marc Dolan, told Garaventa Lift that customers are giving them very positive feedback and are happy to finally being able to access the restaurant and take in the fabulous views of historic Charlottetown harbour. The Genesis Enclosure blends in with the restaurant's decor and thanks to the clear glass visitors can fully enjoy the views of the harbour.
Thank you Lawtons Home HealthCare for this fantastic installation and for carrying forward the Garaventa Lift brand!
About the Genesis Enclosure: 
The Genesis Enclosure Model is a vertical platform wheelchair lift that provides access in private or commercial buildings. No shaft construction is needed, and a variety of optional features allow for extensive customization for your individual project.
Highlights
No shaft construction
Modular
Indoor / Outdoor
Aluminium enclosure
Did you install an outstanding lift recently? Do you think one of your projects deserves to be Project of the Month? Send us pictures and a short story of your latest project at marketing@garaventalift.com
Contact us for more information