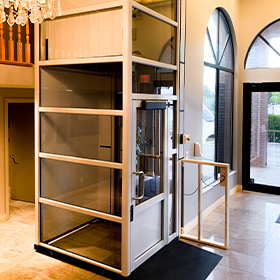 Product: Genesis Enclosure
Installed by: Garaventa Lift BC Branch
Location: ROMA banquet hall in New Westminster, British Columbia, Canada
Installation year: 2020
The Garaventa Lift BC branch installed a Genesis Enclosure lift at the ROMA banquet hall in the Queensborough area in New Westminster, BC, Canada. The client was looking for an accessibility option for the upper conference rooms. The customized vertical platform lift was the perfect solution for the popular banquet facility that has been proudly serving the Greater Vancouver area since 1929.
Thank you to Rolando Rodriquez and his team for realizing this fantastic project!
About the Genesis Enclosure:
The Genesis Enclosure Model is a vertical platform wheelchair lift that provides access in private or commercial buildings. No shaft construction is needed, and a variety of optional features allow for extensive customization for your individual project.
Highlights
No shaft construction
Modular
Indoor / Outdoor
Aluminium enclosure
Did you install an outstanding lift recently? Do you think one of your projects deserves to be Project of the Month? Send us pictures and a short story of your latest project at
marketing@garaventalift.com
Contact us for more information