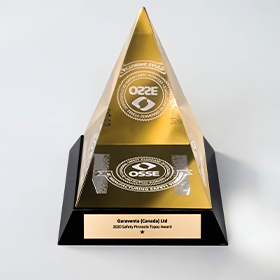 The health and safety of Garaventa Lift's employees is our top priority. We are committed to continuously improve our OSSE-guided Health and Safety Management Systems by implementing health and safety programs.
We are very proud, to have received the Safety Pinnacle Topaz Award for our OSSE 2020 Maintenance Audit. The award is given by the health and safety association 'Manufacturing Safety Alliance of BC' in Canada and recognizes OSSE-certified companies that go above and beyond.
We would like to thank our management and all supervisors for their dedication in setting continuously regulations and approaches to ensure a safe and healthy work environment, especially during the Covid-19 pandemic. Further, we would also like to thank every single employee for their commitment and contribution to make Garaventa Lift a safe and healthy workspace. 
Find more information on the official website: https://safetyalliancebc.ca/pinnacle-awards/
Contact us for more information