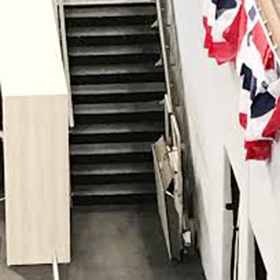 The Project of the Month award for January 2020 goes to Lift-Aids in Euless, Texas for a unique installation.
The crew from Lift Aids did an amazing job in installing Garaventa Lift Xpress II for a portable platform and stairway to be used at Dickies Arena in Fort Worth, Texas.
This was part of a larger project, the construction of an arena with a capacity of 14,000 seats, for a total investment of $540,000,000. The portable platform is used by the announcers and timekeepers above the bucking chutes of the arena (illustrated in the second picture below).
This arena is designated for concerts and sporting events, but it is especially the main venue of the Fort Worth Stock Show and Rodeo that runs for 23 days: a truly singular attraction!
If you are curious to see more of this stunning architectural project, you can visit: www.dickiesarena.com.
About the Xpress II
The Xpress II is an inclined platform lift designed to provide economical access between two landings. The platform travels on two rails which are secured directly to the wall and can be folded when it is not being used.
Highlights
Low cost
ADA access
Space Saver
Did you install an outstanding lift recently? Do you think one of your projects deserves to be Project of the Month? Send us pictures and a short story of your latest project at marketing@garaventalift.com.
Contact us for more information