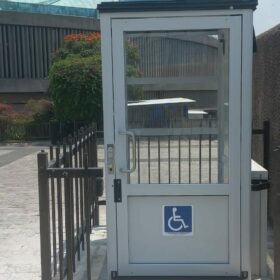 The RAIC Conference on Architecture is a celebration of Canada's architectural past, the outstanding achievements of today's design professionals, and the opportunities for the architects of tomorrow. 
Garaventa Lift will be exhibiting the RAIC Convention in Edmonton from June 2 to 7, 2020.
As the main annual event of the RAIC, Conference 2020 brings together professionals at every stage in their career to learn, explore, and discuss the challenges and opportunities facing the practice. 
This year, the RAIC Conference on Architecture is heading to Edmonton–a city working towards civic architectural excellence. Throughout four days of programming at the Edmonton Convention Centre and other locations across the city, delegates will network with their peers while learning from industry-leading experts through tours, lectures, and other innovative educational sessions. 
Early bird registration for RAIC Conference 2020 continues until March 31, 2020 to receive the best pricing available.
Join the celebrations in Edmonton, June 2 to 7, 2020 and visit our booth.
Click here for the official RAIC Conference 2020 website, which includes programming, schedule, and registration.