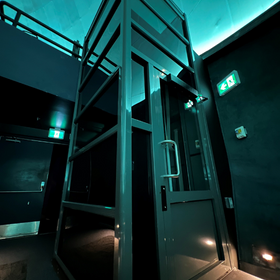 Installed by: Garaventa Lift BC Branch
Location: Science World, Vancouver
Installation year: 2023
In the heart of Vancouver, British Columbia, the iconic Science World dome houses the awe-inspiring Omnimax IMAX theatre, a place where the world of science and imagination collide on an epic scale. This September, Garaventa Lift's Maple Ridge branch achieved a remarkable milestone by clinching the prestigious Project of the Month award. Their outstanding contribution? The installation of a vertical accessibility Genesis Enclosure lift within the theater's iconic dome, setting a new standard for inclusivity.
The significance of this project lies in its dedication to breaking down accessibility barriers. The Genesis Enclosure lift, skillfully installed by the Garaventa Maple Ridge team under the leadership of Rolando Rodriguez, ensures that everyone, regardless of mobility challenges, can partake in the immersive experiences that Science World has to offer. It's not just an elevator; it's a pathway to equal opportunities, enabling individuals to access the magic of the IMAX theater seamlessly.
Furthermore, the project's success highlights the power of collaboration and innovation. Overcoming unique challenges, including the need for low-light conditions in the theater, Garaventa Lift worked alongside TSBC to secure a special variance. This approach underscores the commitment to preserving the theater's immersive ambiance while making it more accessible. In this remarkable endeavor, Garaventa Lift's project serves as a beacon, illuminating the way toward a more inclusive future where everyone can enjoy the wonders of science and cinema.
About the Genesis Enclosure: 
The Genesis Enclosure Model is a vertical platform wheelchair lift that provides access in private or commercial buildings. No shaft construction is needed, and a variety of optional features allow for extensive customization for your individual project.
Highlights
No shaft construction
Modular
Indoor / Outdoor
Glass enclosure
Did you install an outstanding lift recently? Do you think one of your projects deserves to be Project of the Month? Send us pictures and a short story of your latest project at marketing@garaventalift.com
Contact us for more information