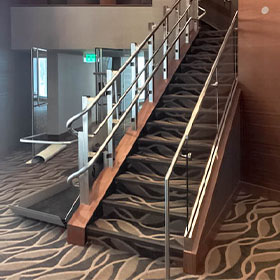 Our dealer Access Elevator (AEL) and Lifts didn't just install one or two Artiras – they installed five Artiras at the Oklahoma State University in the USA. The university was looking for a way to make their McKnight Performing Arts Center accessible. The Artira was the perfect solution since it fits easily in to most stairways and does not require extensive renovation or special construction.
All lifts feature stainless steel tubes, and one of them has glass infill panels provided by a third party. We provided the tabs on the towers to mount them, and they encased the tower bases. One of the specialties of this project is that one drive box is located in a room under the stairs.
The project turned out great and thanks to the fantastic AEL team the Performing Arts Center is now accessible for students, professors and visitors.
About the Artira
The Artira is an inclined platform lift designed to carry passengers up and down straight or curving stairways, over flat landings or over spiral staircases.
Highlights
Designed to fit your stairway
Indoor / Outdoor
Space Saver
Did you install an outstanding lift recently? Do you think one of your projects deserves to be Project of the Month? Send us pictures and a short story of your latest project at marketing@garaventalift.com
Contact us for more information