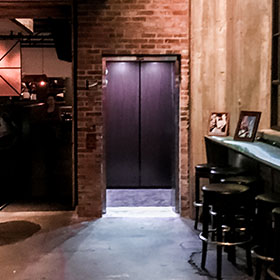 Our longterm partner Access Elevator & Lifts installed an Elvoron LULA at the Exile Brewing Company in Des Moines, Iowa, USA.
The award winning brewery is a popular place in Des Moines to get together for a drink or delicious food. Thanks to the fantastic work of Access Elevator & Lifts the brewery got an innovative and reliable elevator that offers accessibility and comfort to guests. 
Thank you for carrying forward the Garaventa Lift brand!

About the LULA: 
The Elvoron LULA is a limited use, limited application elevator. The limits are determined by local codes.
Features
Fully automatic controls 
Two-speed horizontal sliding doors
Braille markings on all controls
Audio/visual car direction indicator
Contact us for more information