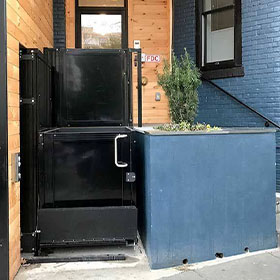 Product: Genesis OPAL
Installed by: BEDCO Mobility
Location: 'The Senova' in Washington DC, USA 
Installation year: 2020
Congratulations to BEDCO Mobility for winning Project of the Month February.
The Senova, a refreshing new residence in Washington DC has been equipped with a custom colour, black OPAL from Garaventa Lift. Located in the middle of a vibrant city, the condominium building combines premium, modern spaces with a touch of traditionalist design. The Garaventa Vertical Platform Lift not only adds accessibility, but it also blends in perfectly to the contemporary style of the building.
The OPAL has been installed by the great team at BEDCO Mobility and has now been chosen Project of the Month February – a well-deserved award for a slick installation.
About the Genesis OPAL
The Genesis OPAL vertical lift easily transports passengers up and down short vertical distances, for applications such as stages and porches. The platform walls, platform gate and optional automatic folding ramp travel with the platform creating a safety barrier around the passenger.
Highlights
Low cost
Fast installation
Ideal for stage access
Did you install an outstanding lift recently? Do you think one of your projects deserves to be Project of the Month? Send us pictures and a short story of your latest project at marketing@garaventalift.com.
Contact us for more information