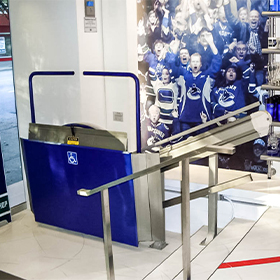 Product: Xpress II
Installed by: Garaventa Lift BC branch
Location: NHL Canucks Store in Vancouver, British Columbia, Canada
Installation year: 2011
Back in 2011, the Garaventa Lift BC branch realized an exciting project that put a smile on the face of any Canucks fan. They installed a Xpress II in the official NHL Canucks team store in Vancouver. The platform lift was color customized in blue to match the colors of the NHL Team. Thanks to the fantastic job of the BC team, fans and interests were able to enter an accessible shop to get their favorite merchandise.
*Please note that this store is no longer a Canucks shop.
About the Xpress II:
The Xpress II is an inclined platform lift designed to provide economical access between two landings. The platform travels on two rails which are secured directly to the wall and can be folded when it is not being used.
Highlights
Low cost
ADA access
Space Saver
Did you install an outstanding lift recently? Do you think one of your projects deserves to be Project of the Month? Send us pictures and a short story of your latest project at
marketing@garaventalift.com
Contact us for more information