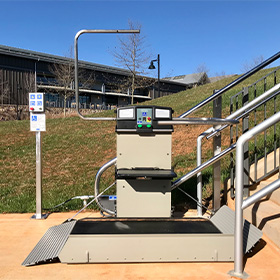 Product: Artira
Installed by: Bedco Mobility Inc.
Location: Tennis complex at the University of Virginia, USA
Installation year: 2020
Our friends at Bedco Mobility installed an outdoor Artira at the University of Virginia (UVA) to make the new home of the  UVA's tennis team accessible. The inclined platform lift provides access from the stands to the bathroom building on the ground level of the tennis court.
This installation features an outdoor platform cover, auto-fold platform, fold down seat, and stainless steel lower call station tower. The lift also has a stainless steel pedestrian handrail and a under platform safety panel.
Thank you Bedco Mobility for this great installation and for carrying forward the Graventa Lift brand!
About the Artira: 
The Artira is an inclined platform lift designed to carry passengers up and down straight or curving stairways, over flat landings or over spiral staircases.
Highlights
Designed to fit your stairway
Indoor / Outdoor
Space Saver
Contact us for more information