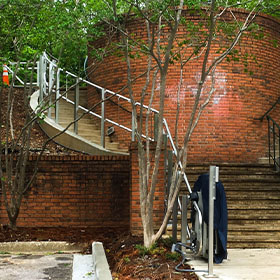 Product: Artira
Installed by: Garaventa Lift Alabama branch
Location: Samford University in Birmingham, Alabama, USA
Installation year: 2017
If you stroll across the campus of the Samford University in Birmingham, AL, USA, you might spot a Garaventa Lift Artira. The lift was installed in 2017 by the Garaventa Lift branch in Alabama. This wheelchair lift fits easily in to most stairways and does not require extensive renovation or special construction. It was a great solution for the university's brick building and the optional cover protects the Artira lift from harsh weather.
About the Artira: 
The Artira is an inclined platform lift designed to carry passengers up and down straight or curving stairways, over flat landings or over spiral staircases.
Highlights
Designed to fit your stairway
Indoor / Outdoor
Space Saver
Did you install an outstanding lift recently? Do you think one of your projects deserves to be Project of the Month? Send us pictures and a short story of your latest project at marketing@garaventalift.com
Contact us for more information